The Silvertip Take-Down Recurve
About the Silvertip Limb
All Silvertip limbs have an Actionwood core (laminated maple) reinforced with a woven fiberglass lamination. This process ensures durability, great stability, smoothness and consistency in a limb. Though Actionwood is preferred, other core woods can be used upon request.
The standard limb comes with black or clear glass. The standard clear glass option would include the Actionwood core stained to match the riser of your choice. Black glass would be solid black with no core wood showing through.
In addition, there are many limb veneer woods to choose from. These are very thin domestic/exotic hardwoods which lie between the core and glass and are primarily used for aesthetic purposes. All veneers will offer the same superior performance coupled with the actionwood core. Several common limb veneers are pictured below and others may be used upon request. Veneers can be stained or left natural depending on the look you are after. Darker veneers tend to show more imperfections in the glass, therefore lighter woods would be preferred for a cleaner look. For further examples of limb options please be sure to view our other webpages. Most veneer woods seen on this entire site can be used on all our various models. Please keep in mind that exotic woods possess many unique qualities, therefore no one piece is alike. We do our very best to find beautiful pieces that fit your preferences.
Locating special woods has become a full time job in itself. We do have a growing number of customers who actually have the time and enjoy this process. This is fine but be sure to get a detailed list of dimensions from us and then please confirm the purchase with us either by description or picture to be sure it's a suitable piece for us to work with.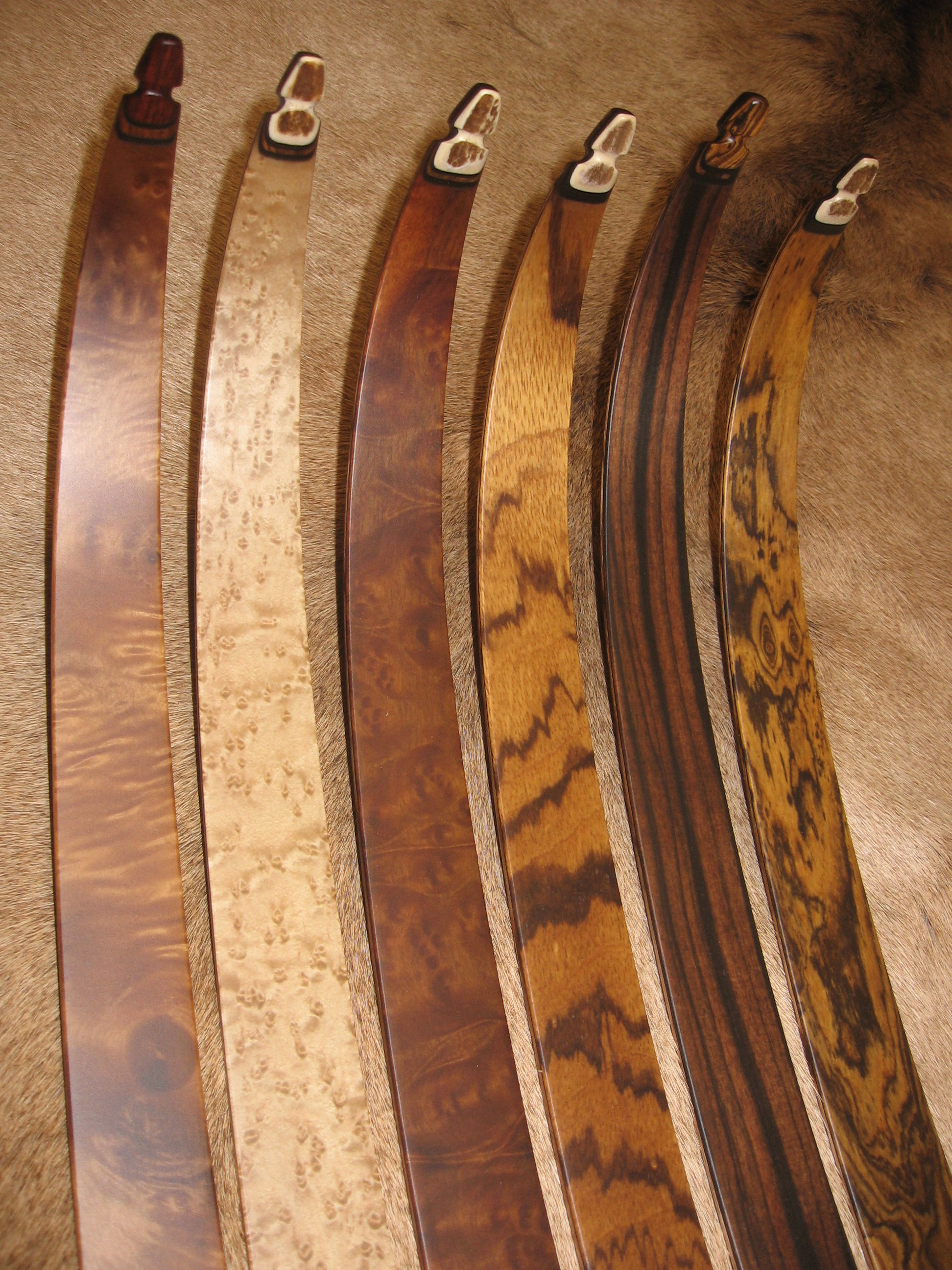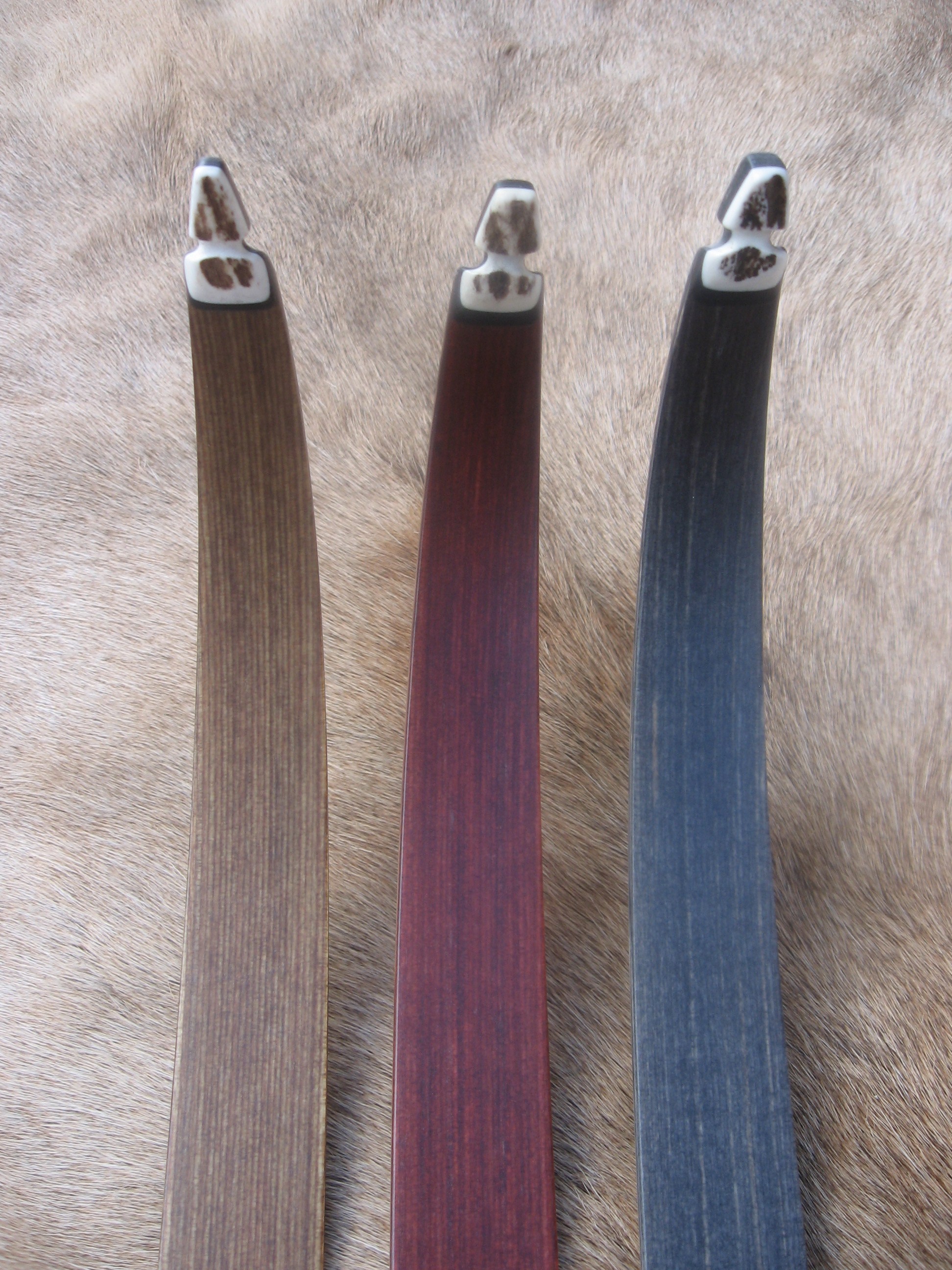 The standard limb attachment is your choice of either the black knurled knob or the allen style attachment. Antler knobs, bronze knobs and cast resin antler knobs are available in both limb attachment styles. The allen style bezels come in either a black or brass finish and require a allen wrench for assembly.
The Silvertip is also offered in a Fast Flight model available only with the standard Dymondwood Risers. These bows include reinforced tips and riser. Testing has found an 8fps gain using FF comparable strings.
The standard tip overlay is wood with additional options of antler and various horn. All tip options are available with the FF option. Some examples are pictured below.
About the Silvertip Riser
The standard riser wood is Dymondwood offered in a walnut, rosewood, or charcoal stain. Dymondwood is a laminated birch that is impregnated with dyed resins providing an extremely durable and heavier physical weight bow. Additional riser options would include domestic/exotic hardwoods. Exotics have proven to be very durable under all conditions and add nice character to a bow. Each Silvertip comes standard with a straight laminated accent stripe in the riser for strength. We also offer a wave or flare configuration in the riser as additional options. Silvertips come with a standard matte finish unless requested otherwise.
Since no two Silvertips are alike, please enjoy viewing the slideshows below showcasing the many unique and beautiful wood combinations our customers have created.
Grip Options
A high grip lifts the heel of your hand straightening your wrist; a low grip drops the heel of your hand; the medium grip is in between and by far the most popular. Including a trace of your hand with your order can help determine the proper grip for you. Grip modifications can be made providing the specifications are adaptable to the design of the bow.
The checkered grip is a functional and beautiful option for all hunting conditions. In wet weather or with a glove it definitely provides a better grip and also aids in consistent hand placement.
The site window and shelf are radiused front to back favorable for shooting feathers off the shelf or veins or feathers off the rest.
All Silvertips come with an instruction guide, string, bow stringer, shelf or rest material and can be tapped for a bow quiver free of charge.
Charcoal Dymondwood Riser Combinations
Walnut Dymondwood Riser Combinations
Rosewood Dymondwood Risers Combinations
Exotic Wood Riser Combinations